Manage Your Chat Subscription
How to Get Started with Your Madaz Money Subscription
Once you've signed up through our quick, easy, signup, please review the email that was sent to you and/or the Congratulations page that came right after your signup.
Please review everything on this page to make sure you understand how everything works at Madaz Money.
---
3 Easy Ways to Cancel
We are absolutely confident that you will find that Madaz Money is THE best trading community out there.
However for whatever reason if you are not satisfied, we've made cancelling a very simple, straightforward, no BS process.  There are three easy ways to cancel your subscription.
1) Your cancellation link is embedded in your initial signup email and monthly renewal email
For your subscription, you will be sent an invoice via email after the end of each billing cycle. If you wish to cancel the service, you may do so via an easy one click link provided at the bottom of the email invoice where you can cancel immediately. The red arrow in the following image is an example email where we show how easy it is to find the cancellation link within the email.
2) We've embedded Facebook chat support on our website 24/7
Cancel Through our Facebook Messenger

Facebook messenger support is embedded at the bottom right of our website

3) Still having trouble? Email our support directly

You can email our support team directly asking for a cancellation by scroll to the bottom of the MadazMoney.com website (this process may take up to 24-72 hours, the slowest of the three cancellation methods).
---
How to Upgrade from the Monthly Subscription to the Annual Subscription?
If you would like to take advantage of the additional savings and perks of being an annual member and want to upgrade from a monthly subscription to an annual subscription, you can email our support team directly by scrolling to the bottom of the MadazMoney.com website and telling them that you are a currently monthly subscriber and looking to upgrade to the annual.
---
Need to Change your Payment Method/Billing Information?
If you need to change your payment method/billing infomation, please refer to the email that contains your invoice and click on Update Billing.  Refer to the screenshot below.
If you cannot locate the email that contains your invoice, please contact the support team at the bottom of the MadazMoney.com website.
---
How to Access Madaz's Live Voice Commentary in the Chatroom!
Members should read the #chat-rules-guidelines channel in the Discord room to get a full understanding of how the room works.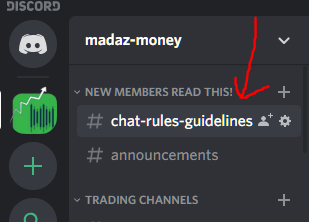 Madaz is LIVE on the Mic every single day doing live analysis of the plays in action as well as calling his trades and commentating every thing he sees.
To Join the Voice Commentary Click on "Stock Voice Commentary" in the Discord Room as shown in the screenshot below.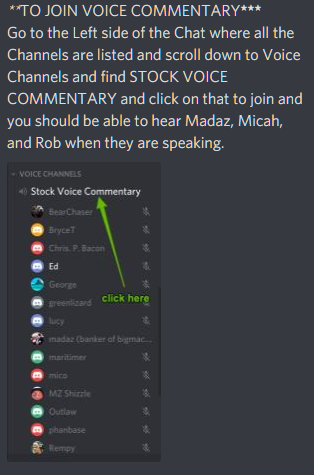 Members should watch this quick intro video below as well to get a full tour of the Discord room.
---
Private Members Video Library
Members should watch and review all the WEBINARS to get a better understanding of the strategies we employ here on a day to day basis.
You will be prompted to log into your Discord account that you used to sign up with Madaz Money to access the Private Members Video Library.